Case Study
"This is my third Sirus vehicle & the quality is second to none"
"I was recommended to Sirus by Motability back in 2014 when I decided to look for cars you can drive in a wheelchair. After being diagnosed with MS, initially, I drove a standard car with adaptations. I would lift my wheelchair into the boot of the car and make my way around the driver's seat. Very quickly I realised this wasn't working for me, and after a few years I had to give up driving completely.
Looking for cars you can drive in a wheelchair
When I started looking for cars you can drive in a wheelchair, so many of them didn't fit the bill. They were either the size of a minibus or the design/engineering didn't have the quality and attention to detail I was looking for. Working as an engineer for several years, I always had a love for cars, like my Mercedes SL500, so this was really important to me.
When I came across Sirus, I immediately saw the quality of their conversions was second to none. Over the years I have got to know Sirus founder, Simon who is an engineer. Simon and his team go as far as they can with the quality of the interior, whereas many alternative WAV's look very utilitarian.
Driving From My Wheelchair – My First Sirus Vehicle 
My first Sirus vehicle was a VW Caddy. The first time I pulled off the driveway in my Sirus VW Drive From Wheelchair, it changed my life.  I could go out and literally do whatever I wanted.  Before I had a Drive From Wheelchair vehicle someone always had to help me, I was reliant on others all the time and I'd totally lost my independence. I hardly went out, as getting an accessible taxi wasn't easy. Now I can go anywhere I want with my fiancé, I can carry out my charity work, take her shopping and generally enjoy my independence.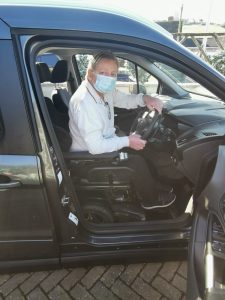 Sirus Ford Drive/Upfront
In 2018 I purchased the new Sirus Ford Drive/Upfront, based on Ford's Grand Tourneo Connect. I had one of the very first conversions produced by Sirus! It was such a perfect fit for me, that earlier this year I upgraded to a brand-new model through the Motability Scheme, which is now my third Sirus vehicle.
Travelling Upfront as a Passenger
In my Sirus Ford Drive/Upfront, when I'm not driving I can travel upfront next to the driver in my wheelchair. Sitting upfront the journey is perfect. It literally feels like being in a normal car. I can turn the radio up and down, get the temperature right, help with directions, and actually contribute to our journey.
Sitting in the Back of a Wheelchair Accessible Vehicle
One of my friends who is a wheelchair user travels in the back of his WAV, but basically, he is sitting over the rear axle. This made him feel sick, and he was shouting all time to his wife who was driving. It seems so antisocial and unnatural, I didn't even consider this as an option. By sitting in the rear, you are still reliant on other people who have to use manual wheelchair restraints and drive you around. Just because you are in a wheelchair, why would you sit in the back as an adult?  If you are able-bodied, the only time you would choose to sit in the back is if you were getting in a taxi!
Lowering Suspension
My Sirus Ford Drive/Upfront wheelchair accessible vehicle has lowering suspension which is excellent. It means that the ramp deploys straight onto the pavement. It's not even like a ramp anymore, it just bridges the gap across the curb. With my rear entry WAV, on-street parking wasn't possible due to the risk of being blocked in. The Ford Grand Tourneo Connect also has Active Park Assist so I don't even have to worry about reverse parking.
Parking in a Blue Badge Parking Bay
Due to the lowering suspension, the ramp can be much shorter, which means parking in a Blue Badge Bay works perfectly well when people adhere to the lines. Some side entry WAV's with longer ramps or lifts don't work in a Blue Badge Bay.
Sound Insulation
Sirus has used a thick, sound-absorbing floor, the kind of flooring used in coachbuilding. The quality is next level. I can drive at 70mph without shouting to my passengers to have a conversation.  It really does feel like a normal car and you can really feel the difference.
 Bespoke Driving Adaptations
I had a range of bespoke adaptations fitted to enable me to drive, including an automated wheelchair locking system, and a push brake with a trigger throttle with radial controls.
Boot Space and Rear Seats
As the Ford conversion has side access, it means I have full use of the boot which is great. I can go shopping with ease. I looked at other rear-entry vehicles like the Caravelle, and the vehicle was attractive but didn't accommodate things like shopping. I also have two seats in the rear which is ideal, as I'm forever taking passengers.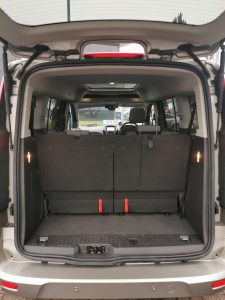 Sirus Aftersales Service
Let's be honest, with any wheelchair accessible vehicle, problems can arise due to the complexity of the conversion. But it's how you deal with it that is important. If there are any minor faults, Sirus take ownership of it, deal with it, and keep you informed throughout. I had a little problem with the car and straight away they sent one of their mobile aftersales engineers to help me the next working day. It's so good to know I have support if I need it. The aftersales engineers are brilliant and also visit annually to carry out a service on the conversion. I speak to Sophie regularly and the quality of service has been exceptional – the team are wonderful.
If I had to sum up Sirus in three words, I would say 'perfect independent driving' or 'engineered for you'!"