Case Study
"Our Sirus wheelchair access vehicle is just brilliant"
Richard and Marie tell us all about their experience driving the Sirus VW and how they found their new vehicle, the Sirus Ford Drive/Upfront perfectly suits their needs on their free home demonstration.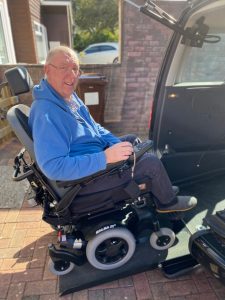 "This was our very first wheelchair access vehicle, so at first it's really hard to know what to look for and you have to be guided by other people. The Sirus team were amazing, they gave us some fantastic advice at Motability's One Big Day in Exeter. When we spoke to another converter, they told us, we wouldn't get better than a Sirus vehicle!  'Done properly' were his exact words! Which was of course very reassuring.
Life before Sirus
Previously we had a standard car with a hoist and sadly it was really unsuitable. It was so difficult for me to walk around the car and the straps for the wheelchair didn't work. We got to a point where it was unusable and we had to look for alternatives. I don't think of myself as disabled, so at first, I didn't want a wheelchair access vehicle. Looking back, I would advise anyone to consider this much sooner – it really does make life so much easier. Especially with Sirus conversions which are much more car-like than some of the big wheelchair access vans you can buy.
'Words cannot describe our Sirus wheelchair access vehicle'
Our Sirus VW conversion is absolutely fantastic. Words literally cannot describe our wheelchair access vehicle and we would be lost without it. The quality and finish are amazing, it looks like it has come from VW and I cannot even imagine how it is built in the Sirus factory! You literally can't tell where the conversion starts and ends.  The Sirus build quality is excellent and it feels so safe to travel in my wheelchair.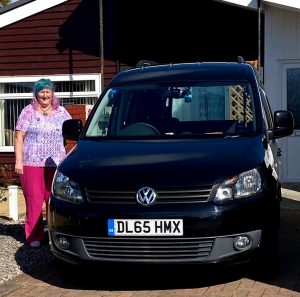 'In just 2 minutes, I am inside and away'
When I want to go out, every time I open the door and it's raining, I get a kick out of opening the tailgate and ramp…In just two minutes and I'm inside and away, it's just fantastic. When I am out and about it is a real showstopper! Everyone is so impressed. People literally stop me on the street and ask to see how it works and even take pictures.
Parking and days out
Many car parks are so small, I really wouldn't want a bigger vehicle as it would be hard to park. Since I was diagnosed with cancer, I use my Sirus wheelchair access vehicle a lot for hospital visits, which is a 140-mile round trip. Without my Sirus car, we really wouldn't be able to get there. And my wife and I enjoy many days out at the coast.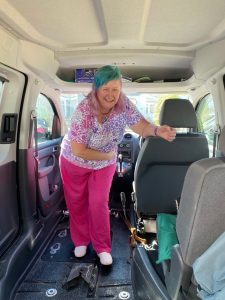 'Sirus gives us a sense of security'
The aftersales service at Sirus is brilliant. Ian and Darren the Aftersales Engineers have been out to us and both of them are exceptional, as good as gold. They couldn't have done more for us.  We were really impressed they were offering a shopping service during lockdown, but Truro is perhaps a long way to go to fetch us a loaf of bread! The whole team at Sirus are always there for us, even through the coronavirus epidemic.  It is very much appreciated and gives us a sense of security knowing that the back-up and service is available.
'The Sirus Ford ticked all the boxes' 
Due to health reasons, a necessary change of wheelchair was unavoidable, so we began looking for a new car which would work well with the wheelchair. The new Sirus Ford Drive/Upfront conversion seemed to tick all the boxes, so we arranged a demonstration in July 2020. It was a lovely day and the Mobility Specialist was great. We really appreciated their efforts in keeping us all safe during the pandemic.
Motability Scheme
I was delighted to be awarded a Motability charitable grant towards the Advance Payment. We then had a demonstration with Dave from Motability who assessed my needs. We don't know where we would be without the help and support from Motability, who have been fantastic throughout.
'The Sirus conversion is a luxury vehicle'
The Sirus Ford Drive/Upfront really is something else. It's what I would call a luxury vehicle, it is much more car-like than other WAV's. It was hard to hear the engine or gearbox, also the cabin was sound insulated. Marie was delighted as the steering was light and she also liked the reversing camera and sensors. It even has a heated windscreen, how cool is that. The Ford Assist function if we breakdown is amazing and all the little extras were really helpful.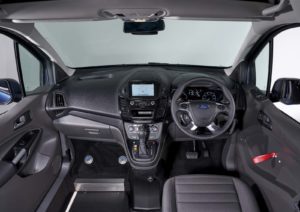 Side entry and rear entry
Having been used to rear entry in the VW, of course, it was a change, but there are positives and negatives. The Sirus Ford Drive/Upfront was easy to enter and exit and we thought the side entry worked well for us. We have off-road parking and there is plenty of room for me to get in and out. In Falmouth where we go for days out, we have been jammed in and not able to get back into our rear entry vehicle, so the side entry is ideal for on-street parking and it suits our lifestyle. With the short ramp and lowering suspension, it's so easy to park.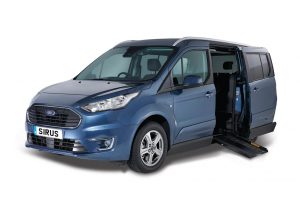 Rear seats, boot and suspension
The rear seats and boot space is brilliant. We won't have to take all of the luggage out of the vehicle for me to get in and out now. This was another reason the Sirus Ford Drive/Upfront was ideal for us. The lowering suspension is also a plus point, we have an area near our home where there are lots of speed bumps and we had no problems at all with the Ford. The two rear seats come as standard, unlike another upfront conversion we have seen, which literally had nothing inside! It was so noisy (road noise) and echoey and your things would slide all over the floor!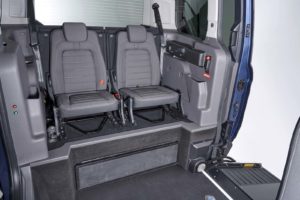 Support of the Sirus team
The Ford conversion really is brilliant and we can't wait to take delivery of our wheelchair access vehicle through the Motability Scheme in November. When I next visit Sirus, I have asked if I can have a tour of their workshop to see just how much goes into the build. We literally don't know where we would be without the support of the Sirus team".