Case Study
"We are so pleased with our new wheelchair accessible vehicle I could cry".
Richard and Marie Johns have been a Sirus customer for almost six years. Their Sirus Ford Drive/Upfront vehicle was recently delivered, and they couldn't be happier with their new wheelchair accessible vehicle.
"We are so pleased with our new wheelchair accessible vehicle, I could cry. We can't believe we're lucky enough to have it, especially during the coronavirus lockdown. Everyone at Sirus worked on our behalf to get it finished and it was much appreciated as my wife was struggling with the manual wheelchair tie-down straps. This is our second disabled car by Sirus and it really is brilliant.
Drive or travel upfront
The Sirus Ford Drive/Upfront enables me to drive from my wheelchair and also allows me to sit upfront with Marie when I don't want to drive. I can get in and out with ease as the ramp and door are automated. Sirus also fitted an automatic wheelchair locking system so Marie doesn't need to bend to use manual wheelchair restraints.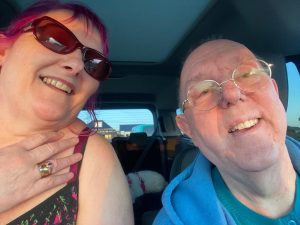 Luxury conversion
This is, without doubt, the best vehicle we have ever owned and that includes standard cars…it is a real luxury. The side ramp and air suspension make it so easy to enter and exit, it just glides along the road and it feels solid, safe and secure, especially in my wheelchair. The quality and finish are amazing, it looks like it has come from the manufacturer and you literally can't tell where the conversion starts and ends. Sirus has really excelled in the build quality of our disabled car.
Safety
There is a fire extinguisher system in case of an emergency which all adds up to a safe drive.  The automatic door and ramp all work smoothly and the door gives a gentle warning beep when closing, very useful.
Smooth ride
Willow our dog fell asleep on the first journey, she found her spot and nothing will move her! Praise indeed for the design of the lowering suspension.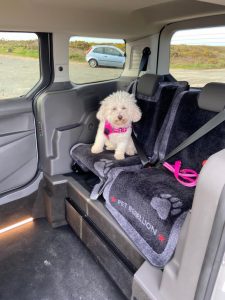 High tech vehicle features
The Ford Tourneo Connect sound system is excellent, hi-fi is my hobby and I'm impressed by the sound. There are so many extras and you can customise the display as you would like. At the rear, there are reversing sensors and a reversing camera which I thought was a gimmick but actually, it's really useful with a great clear view on the screen. The air conditioning works so efficiently, clearing the screen in minutes and there is even a heated screen if you need it. The steering wheel is adjustable for height so can be positioned correctly for optimum comfort. There is even a usable boot space which is great for shopping and carrying extra gear etc.
Vehicle adaptations
I have a mid-wheel drive wheelchair which can be a problem sometimes in certain conditions, but I can get in and out with no problem and I can even turn inside the vehicle if necessary. Sirus also fitted the automatic wheelchair lockdown and the engineers have done a superb job. It's in exactly the correct place for me and the wiring etc. is top class.
This vehicle has been ordered, converted, adaptations fitted and all during lockdown. I have to praise everyone at Sirus for their patience and professionalism in dealing with us and liaising with Motability throughout the build. Fantastic job done by extremely nice people, you should be proud of your work.
Motability
I received a Motability charitable Grant towards the Advance Payment for my disabled car, and the team at Motability have been great and very helpful. Thanks to everyone especially Neil & Dave. It's much appreciated".
Find out more about the Sirus Ford Drive/Upfront and book your free home demonstration.