Bespoke car adaptations fitted by our expert engineers…
At Sirus we work tirelessly to design and fit a wide range of car adaptations and adaptations to wheelchair accessible vehicles. Hear from Andy Harris, our Adaptations Engineer who has been with Sirus fifteen years.
"I have been with Sirus for almost 15 years.  I love my job because of our customers. We come up with tailored car adaptations for each individual because no two people are the same. Over the last 15 years, I have worked on bespoke hand controls, boot hoists, pedal modifications, rooftop storage and a wide range of general driving aids fitted to disability WAV's and standard cars.
The Sirus Vehicle Adaptations Service
So many of our customers return to us time and time again, so we build a great relationship. Many people also come to us when they have had a car adaptation fitted which doesn't quite work for them, so they ask Sirus for expert advice and the right solution. We have been doing this for a long time, so we have years of valuable knowledge and experience. It's great to work with so many customers who come back to us and it makes the job really satisfying".
Some of our car adaptations include:
Re-position Driving Controls – For one particular customer, I raised the floor, moved all of the driving controls forward so they were within his reach – including the radio and heater, lights, switches and I fitted a small steering wheel. It was then re-furbished with leatherette so that it blended with the original vehicle.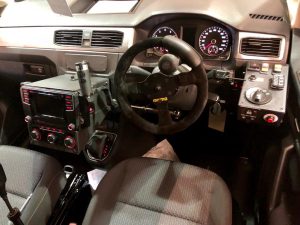 Another customer who just had her Sirus VW Drive vehicle this week had the panel moved forwards so she could reach all of the controls, the key ignition was also moved for ease, I also fitted pedal extensions plus a small steering wheel.
Seating Solutions – We can fit a wide range of seats to help entry and exit from a vehicle. I even worked on a horsebox to fit a Turny Seat which was an interesting challenge!
Bespoke Boot Hoists – One of our most popular products, one customer required a boot hoist to be fitted to his Mercedes Vito van, but he wanted it to be accessed from the side door, so this involved a complete redesign.
Bespoke Safety Screens –  I have fitted bespoke driver shields to protect the driver from interference from passengers. You can find out more here from RIDC.
Bespoke Grab Handle – Fitted to help our customer get in and out of the vehicle. It was fitted in the optimal place but without tampering with the airbag.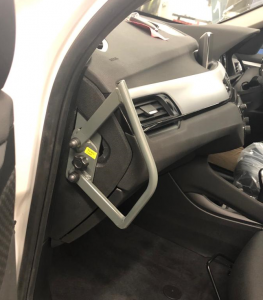 Find out more about Sirus car adaptations here.