Car adaptations – your guide to seating solutions
In this blog, we focus on seating solutions which will make getting in and out of your car easier.
Sirus fit a wide range of car adaptations for disabled drivers and passengers. Whether you require an automated swivel car seat for a disabled person, or a simple, cost-effective transfer plate, we have the solution. Our car adaptations will enable you to remain comfortably seated in your car, whether you are the driver or passenger.
Swivel Seats
Car swivel seats are designed to give you easier access to your car. The entire seat comes out, lowers to a suitable position for easier transfer to or from a wheelchair. We can also fit a swivel seat which is specially designed to attach to a wheelchair base, turning your car seat into a wheelchair. (Please note, these are suitable for passengers as opposed to drivers as you will require assistance to fit the base into position).
Person Hoist
To assist in transferring from your wheelchair to a car seat another popular option is an in-car person hoist. This compact system is permanently mounted into the car with three sections that clip together and form a frame and a specially designed canvas sling seat. The sling is slipped onto the hoist and is raised automatically by pressing a push-button control. When not in use it can be detached in seconds and stowed in the boot completely out of the way.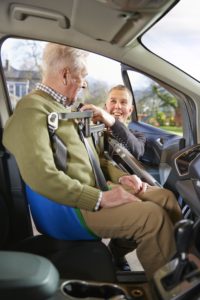 Transfer Plate
If you are struggling to transfer, this simple and cost-effective transfer plate provides a surface between your wheelchair and your car seat. Fitted to the side of the car seat, once you are seated, it assists a safe transfer from your wheelchair. They are completely discreet and can simply be folded out of the way when not in use. Available in either a manual or electric option.
Motability
Sirus are extremely proud to be a Motability Preferred Adaptations Partner having worked with Motability since 2004. Many of our customers use the Motability Scheme and currently over 50,000 people have adaptations fitted to their car.
If you are thinking about a new car, it is always best to talk to Sirus first so we can recommend which cars will work best with your chosen adaptations. Currently, 150 of the most popular adaptations can be fitted to your new Motability Scheme car at no extra cost if you order the adaptations at the same time as your car with your dealer. Your Motability Scheme dealer will work with Sirus to ensure that your brand-new car is fitted with the adaptations you need before it's delivered to you.
Want to find out more? Talk to our friendly team
If you would like to know more about car adaptations for disabled drivers and passengers, talk to our mobility specialists. Our experienced engineers can design bespoke solutions to suit your individual requirements. Just call us on 0121 505 7777 to discuss your options. You can also visit our accessible head office in Wednesbury, West Midlands and meet our friendly team.