Accessible Transport Campaigner Helen Dolphin MBE Test Drives Sirus Ford Drive X
Helen Dolphin MBE, accessible transport campaigner, parking expert and quadruple amputee tests out the Sirus Ford Drive X – our latest wheelchair accessible vehicle designed to enable a wheelchair user to drive.
"The Sirus Ford Drive X is a Drive From Wheelchair vehicle based on the Tourneo Custom and is perfect for wheelchair users who need a lot of space or have a large family. This wheelchair accessible vehicle can take up to six people and has a multitude of seating and storage options. It would fit an awful lot of luggage including additional wheelchairs, shower chairs and hoists. This would also be a perfect vehicle for a couple who are both wheelchair users – if you are travelling as a wheelchair passenger then you sit just behind the driver so are in close proximity to others.
ISOFIX Child Seat
I have a four-year-old son who was very excited to come along for a ride and it was easy to strap him in with his car seat. For parents who need it, there is the option of a mid-row seat with ISOFIX child seat attachment points.
Tailgate and Ramp
The Sirus Ford Drive X was really easy to enter. All I had to do was press a button on the key fob and the tailgate opened and the ramp deployed. The ramp angle was about 11 degrees so it was easy for me in my indoor/outdoor wheelchair to drive up and down. The floor of the Sirus Ford Drive X is fully lowered so the interior feels really spacious, and it meant I was sitting in the normal driving position, so I wasn't up too high and the steering wheel with my steering cup attached was at the perfect height.
Hand Controls
The wheelchair accessible vehicle I test drove had a push/pull accelerator/brake which was easy to control and didn't get in the way of my wheelchair or my legs. In my own car, I have secondary controls such as the indicators, lights and horn activated by a six-way bleeper system in my headrest. As this is quite a complex adaptation it cannot just be put into any vehicle I'm driving, so the Sirus mobility specialist, Scott had to do my indicators for me. However, bespoke adaptations can be fitted to the Sirus Ford Sirus X depending on your requirements.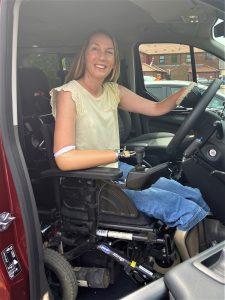 Wheelchair Securing System
In order to make sure my wheelchair was safely secured, Scott used a 4-point wheelchair tie-down system. However, this vehicle can be fitted with an automated wheelchair docking station, which makes securing a wheelchair quick and easy.
Transport the Driver's Seat
Another great feature of this vehicle is the fact that it is easy to switch from driver to passenger and the spare driver seat can be transported in the mid-row. I often share driving on long trips with my husband so the ability to change over easily would be beneficial for us and I am sure many other people too.
I expected driving the Sirus Ford Drive X to feel heavy and difficult to drive as it is quite a large vehicle, but I was amazed at just how responsive it felt. I was driving with just one arm in a steering cup, so I think this demonstrates just how effortless it is to drive. This vehicle also has several features to help make driving easier and safer including adaptive cruise control which enables you to maintain a pre-set distance from the vehicle in front, pre-collision assist which is designed to monitor your proximity to other vehicles and a driver alert system that warn you if it detects driving behaviour that indicates a drop in alertness levels.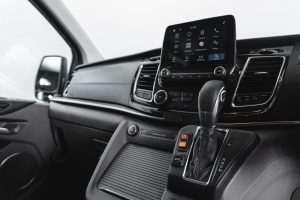 Parking
One of the biggest concerns that many people have when choosing a WAV is where they can park it. Not being that great at parking I was slightly nervous about parking a bigger vehicle than I'm used to. However, it fitted easily into a Blue Badge parking space, and I was able to exit easily down the ramp. The ramp itself fitted into the hatched marking at the rear of the vehicle but I did have to go onto the road area as I exited. Although I thought the vehicle felt big it wasn't actually that much longer than my estate car that I normally drive and I think the fact it is higher off the ground makes it seem bigger.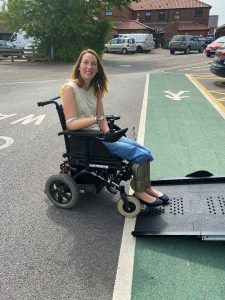 Co2 Emissions
I was also pleased to see that the engine meets the stringent Euro 6.2 emissions standards so would be able to go into the Low Emission Zone in London without incurring an extra charge.
The Sirus Ford Drive X was a great vehicle to drive and was easy to manoeuvre around all the country lanes where I live. If you need a lot of space then this vehicle certainly meets that criteria and is definitely a WAV worth testing out".
This WAV is now available on the Motability Scheme.