Travel & Disability Blogger, Simply Emma talks about upfront wheelchair accessible vehicles
Emma Muldoon is a leading travel and disability blogger from Scotland. Emma talks about her experience having a demonstration of a Sirus Ford Upfront Passenger wheelchair accessible vehicle through the Motability Scheme.
"Sirus was the first company that I ever dealt with in regard to my own Motability wheelchair accessible vehicle. It was around thirteen years ago when I received my Sirus VW Drive From Wheelchair vehicle. The VW Caddy was the first Motability wheelchair accessible vehicle that I learned to drive from my wheelchair and it had all the necessary adaptations to enable me to do so.
Since then I have decided driving isn't for me, so I currently have a Ford Grand Tourneo Connect with rear entry wheelchair access and I travel as a passenger in the back. The lease is due to end later this year so my partner and I are exploring our options for when we can choose our new Motability wheelchair accessible vehicle.
Sitting in the Back is Noisy
Due to sitting in the back where it is noisy, it is increasingly becoming more frustrating not being able to hold a proper conversation with my partner who is driving. This is particularly frustrating because we regularly travel up and down the UK so we either have to shout to be heard or sit in silence.
The Motability Scheme
I have been a Motability Scheme customer for around thirteen years. Prior to that when I was a child, my parents had a Motability Scheme vehicle which could transport both myself and my disabled sister. All in all, I have used the Motability Scheme for the majority of my life and the team there have been incredibly helpful. I've always found their customer service to be excellent especially when I've contacted them when our vehicle has broken down or we've needed to arrange a courtesy replacement vehicle. I can't fault the service.
Motability One Big Day
My partner and I went along to the Motability One Big Day at the Royal Highland Centre in Edinburgh. The event showcases the UK's largest display of WAV's, cars, scooters and powered wheelchairs for disabled people. It was great to be there and see what the Motability Scheme and its partners had to offer. It was at this event that we saw the Sirus Ford Upfront Passenger for the first time. I was able to drive inside the vehicle and speak to one of Sirus' Mobility Specialists. We considered the benefits of sitting in the front and decided to arrange a home demonstration to see for ourselves how this work could for us.
Sirus Home Demonstration
The home demonstration with Sirus was really exciting as it was our first time being able to trial a rise up front WAV. The Sirus Mobility Specialist was friendly and provided us with lots of information. We didn't feel rushed at all as we were able to take our time looking around and driving the vehicle for as long as we were comfortable with. He made sure I was happy getting in and out and as well as offering advice on the best way to do it. For our test drive, we took the Ford Upfront Passenger to a local supermarket car park. This allowed us to park in a blue badge parking bay so that I could test getting in and out of the vehicle via the side entry ramp. We also drove around our local area on the roads that we regularly travel on to get a feel for the vehicle.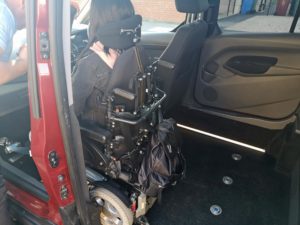 High Tech Features
The Sirus Ford Upfront Passenger that we trialled was stunning. It was the latest model with all the extra features, which was very exciting. My partner thoroughly enjoyed the test drive and all the gadgets that came with it. There was a generous amount of space in the back for two passengers and the boot was a very good size too.
Generous Boot Space
Our current Motability wheelchair accessible vehicle doesn't have a boot so we liked that Sirus Ford Upfront Passenger does, which would be great for storage. The side entry ramp was easier than I originally expected, but it did take me a few tries to work out the best way to enter and exit. This would also be dependent on the type of wheelchair you have so it's best to book a home demo to try it out.
Benefits of Travelling Upfront
I enjoyed travelling in a ride up front WAV, it really does make a big difference to the experience. Usually, I can't see out the windows very well when I'm sitting in the back of my current Motability wheelchair accessible vehicle. However, it was lovely to be able to look out the window and admire the view while sitting in the front. Being upfront would enable me to have a conversation with my partner and enjoy the benefits of sitting beside the driver like everyone else. It would also allow my partner to be able to help me if I needed anything like having a drink or something to eat which would be really helpful during long car journeys.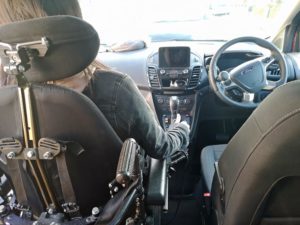 It's very early stages as my Motability contract doesn't run out until the end of this year.  Due to Covid-19, unfortunately, Motability demonstrations and orders are currently on hold, but I'm looking forward to the next steps and I hope to be travelling upfront very soon!"
Emma's blog,  Simply Emma provides comprehensive reviews on travel (including accessible holidays, hotels, city breaks and transportation), gigs, festivals and general lifestyle topics such as beauty and fashion.
You can read more from Emma on her blog, Simply Emma.