Case Study
"I would definitely recommend Sirus for their vehicle adaptations expertise"
Gill Tyrer from Llandudno has a Sirus VW Drive with a variety of vehicle adaptations fitted to assist her when driving from her wheelchair. Gill tells us all about her new Sirus vehicle and how welcome she felt when she visited Sirus. 
"I have been driving from my wheelchair for 16 years now and this is my third drive from wheelchair vehicle. Before that, I drove an adapted car.  I've seen a lot of changes during that time and some real advances with this type of vehicle!  My new Sirus VW Drive is designed to enable me to comfortably drive from my wheelchair. Although the vehicle is quite small, it is actually really spacious inside and much bigger than I thought! There's plenty of room for my passengers to stretch out so I have space for myself and two other passengers.
I had various vehicle adaptations fitted.  Andy, Sirus Adaptations Engineer did an amazing job! I really did put him through his paces! I saw the Sirus team four times in total – the first two times was a home demonstration with Marcus where he recommended what I needed, then two fittings at Sirus.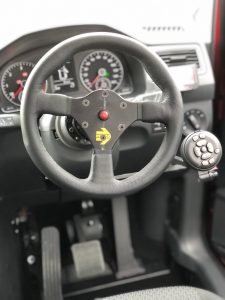 My Vehicle Adaptations which enable me to drive
Andy fitted pedal modifications so that the accelerator is on the left-hand side which is much easier for me (with the option to switch back to the right if anyone else needs to drive). He raised the floor so I have better vision, fitted a small steering wheel, and made a bespoke box to my left-hand side which housed a lights switch, gear change, lockdown release switch, handbrake, tailgate open and close switch, brake override and a drop-in key. I also have a push-button gear selector, push-start ignition, ramp rails, parrot voice control, parking sensors, a Lodegsons 13-way control (for the indicators, lights, horn etc) a QLK 150 lock by Q'Straint which secures my wheelchair in position and lightened power steering.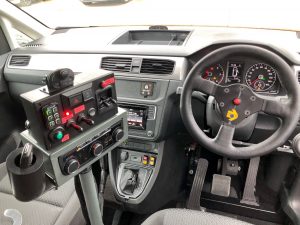 When I first saw my adaptations, I thought oh my goodness! This vehicle really is quite unique! During my final fitting, Andy made sure it was all situated perfectly for me to drive with ease. I took it for a test drive around the estate to make sure I was happy with everything. It was fabulous, and now I don't have any leapfrogging as the pedals are perfectly fitted for me. Andy amazed me….I take my hat off to him and I would definitely recommend the Sirus team for their know-how and expertise with regards to their innovative wheelchair accessible vehicle conversions and driving adaptations.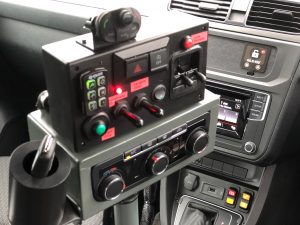 Visiting Sirus in the West Midlands
When I visited Sirus in their West Midlands premises, I was made to feel to really comfortable and welcome. The guys even picked me up from the station.  I've been in many workshops over the years and none of them are quite like Sirus. It was so clean, you could literally eat your dinner off the floor! They should be really proud of the premises…it really does have that wow factor.
Driving from my wheelchair enables me to travel to see friends, family, get to hospital appointments, go shopping etc. It means I'm not reliant on taxis – and really just gives me total independence!
I would like to say a big thank you to everyone at Sirus. The team on the phone are great, they always get back to you straight away and there is literally nothing I would fault. I would highly recommend Sirus!"