Helen Dolphin MBE test drives the Sirus Ford Drive / Upfront
Helen Dolphin MBE, accessible transport campaigner, parking expert, disabled driver and quadruple amputee test drives the Sirus Ford drive from wheelchair and upfront passenger conversion.
"I have been a disabled driver for over twenty years but I currently drive a standard car with various adaptations including push/push accelerator/brake hand controls, lightened power steering and I have all my secondary controls in my headrest which I use my head to control.  I use both powered and manual wheelchairs, but my powered wheelchair is difficult to dismantle and heavy, and I rarely take it with me in the car.
Although I can lift my own manual wheelchair in and out, I am acutely aware that as I get older, loading my own wheelchair will not be so easy and it is very likely I will need to drive a wheelchair accessible vehicle (WAV) to stay independent. Therefore, as a disabled driver, I was really excited to test out the Sirus Ford Drive/Upfront which is based on Ford's Grand Tourneo Connect.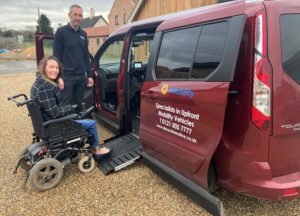 No Need to Transfer or Dismantle Your Chair
The main difference between a WAV and a standard car is there is no need to worry about transferring or dismantling your wheelchair as you can travel in it. Getting into the Sirus Ford was really easy, I simply pressed a button on the key fob, the vehicle suspension lowered, and a side ramp came out.
70cm Ramp and Lowering Suspension
I was interested to see that the ramp was only 70cm long. The reason the vehicle can have such a short ramp is because of its lowering air suspension which lowers the base of the vehicle right down to the ground.
Plenty of Room to Manoeuvre and Turn
I then drove up the ramp and into the driving position. I have only been in WAV's with rear entry before, so this was a different experience. I was concerned it would be difficult to drive into position, but it was no problem at all. There was plenty of room to manoeuvre and turn. Once you are safely in position, you need to raise the vehicle suspension back up by pushing a button on the dashboard.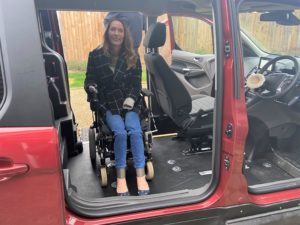 Securing My Wheelchair
To make sure my wheelchair was safely secured, Marcus, Sirus Drive From Wheelchair Specialist used a 4-point wheelchair tie-down system. He informed me that should I decide to get a Sirus Ford my wheelchair would be fitted with an automated wheelchair locking system, so I could secure my wheelchair independently. The seat belt was on an extender so came up much higher than a normal seat belt, making it easier to fasten.
Electric Push Button Ignition and Electronic Handbrake
The Sirus Ford has an automatic transmission and comes with a push/pull accelerator/brake. To use the controls, Marcus had to unscrew the control panel from my wheelchair as it was in the way. This could be adapted by putting a joint in it so it could be simply pushed to one side. After trying out the controls whilst the vehicle was stationary, I felt happy to take it on a test drive around my local area. To start the engine there is a push-button ignition which was perfect for me as I struggle turning keys. I was pleased to see that an electric handbrake was standard and was a button which was easy to use.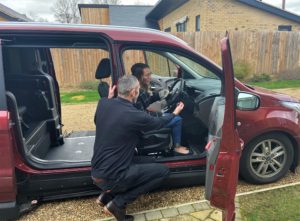 Easy to Manoeuvre and Quiet
The Sirus demonstrator vehicle had a steering ball on the steering wheel. However, Marcus easily replaced it with the steering cup from my own car to enable me to drive safely. Although I'm used to lightened power steering, I didn't find the Ford that heavy to drive and I was pleasantly surprised by how easy it was to manoeuvre. It was also very quiet and it was easy to have a conversation with the person next to you or in the back.
Switch From Driver to Passenger
Another feature of the Ford is the number of seating options. Both front seats can be easily removed and replaced so it was easy for me to swap with Libbie my PA, from driver to upfront passenger. There are also wheelchair securing points for tie-down straps in the front passenger position which ensures wherever you travel in your wheelchair, you can travel safely. In the back are two original Ford seats which can be folded down if needed and there is a foldaway step which Libbie found made her journey a lot more comfortable.
Internal Transfer Option
You also have the option of the Sirus Ford Internal Transfer – so you can drive from a standard driver seat if you have the ability to transfer safely unaided. Sirus fit a powered six-way seat to aid an easy transfer.
Parking in a Blue Badge Bay
One of the biggest concerns that many people have when choosing a WAV is where they can park it. On my test drive, I was amazed to see that I could drive the Ford into the Blue Badge bay in my local town and the ramp was completely contained within the space.
Boot Space for Luggage or Shopping
Another bonus of having a side entry ramp is you have a boot, so there is no need to load luggage or shopping into the middle of the vehicle, which is ideal for a disabled driver. If you want to tow a trailer or caravan this is also possible as there is a tow bar.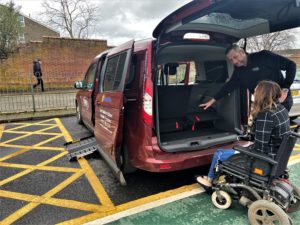 Navigation Systems
Marcus showed me the other gadgets this vehicle comes with, such as being able to mirror your phone onto the screen and then navigate using Google Maps. The vehicle has loads of standard features and options.

Good for Parking in Towns and Cities
I really enjoyed testing out the Sirus Ford and I was surprised by how easy it was to drive as a disabled driver, as well as to get in and out. This is definitely a WAV worth testing out and particularly good for those who need to park in towns and cities and like to have a bit of luggage space".
The Sirus Ford Drive / Upfront is available on the Motability Scheme.
You can follow Helen on her Twitter page and visit  www.peoplesparking.org for more useful information.