Independence is achievable with a Sirus wheelchair accessible car
Being a wheelchair user doesn't mean you cannot enjoy the freedom and independence of driving. Many of our customers can drive and use a range of bespoke driving adaptations which are fitted to their wheelchair accessible car.  Many people are returning to driving following an accident, injury or disability, and some are learning to drive for the first time. We have a Team of Mobility Vehicle Specialists who can give you lots of advice on a wheelchair accessible car, car adaptations and funding options available.
Drive or sit upfront
In the last 15 years, the industry has seen many innovative wheelchair accessible cars designed to enable wheelchair users to drive. With so much more choice out there, you don't have to feel confined to the rear of the vehicle, often referred to as sitting in the 'boot', which can be uncomfortable and unsociable. Sirus has a range of wheelchair accessible cars you can drive, and for those who don't want to drive, we offer a number of wheelchair passenger upfront options. Read our Drive From Wheelchair FAQ page for more information.
The Motability Scheme
Many Sirus customers choose to use the Motability Scheme as it has many benefits providing 'worry-free motoring'. Everything you need is included – insurance, maintenance, servicing and breakdown cover, so all you have to do is pay for fuel. If you qualify for the higher rate Disability Living Allowance (DLA), or the higher rate mobility component Personal Independence Payment (PIP), you can apply to use the Motability Scheme. Many of our customers also apply for a charitable grant towards the Advance Payment.
Driving Assessments
If you are thinking about driving, as well as speaking to our mobility vehicle specialists at Sirus, you can contact Driving Mobility – the network of UK wide mobility centres. The charity provides driving assessments and advice to help with your mobility. Also, if you would like to learn to drive or are returning to driving, their Driving Assessors can recommend the right solutions for you and teach you to drive. Some centres have a specially adapted mobility car to learn in. Find out where your local centre is located.
Hear from some of our Drive From Wheelchair customers, and how driving has changed their lives.  
Jenna – Ford Drive / Upfront customer
"Being able to drive again has had a huge impact on my life. It has massively benefitted my mental health and wellbeing because I now have my independence back! I can go out on my own without relying on others, if ever I feel down I can jump in the car and go for a drive in my Sirus Ford Drive/Upfront. Before I was able to drive again, I had a wheelchair accessible car where I sat in the back.  It was so difficult to chat with anyone in the front as it was so noisy. It was extremely uncomfortable and any bumps in the road caused excruciating pain". Read more from Jenna Fitzgerald.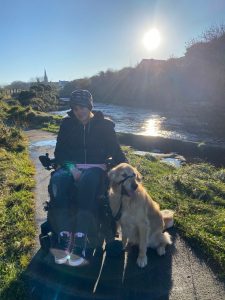 Mr Barr – VW Drive Customer
"Being able to drive from my wheelchair means I can just decide where I want to go and I don't need to bother anyone else, is like heaven. My Sirus VW Drive has changed my life completely. I have been independent my whole life and I lost this when I had a car that no longer met my needs. I have independence again, which is so important to me and I don't have to ask for help anymore.  Now I can go out anytime I want night or day. It literally feels like coming out of the darkness into the light. As a wheelchair user, being able to look after yourself is really important. I feel like independence is the last thing you have got and it is so important to me". Read more from Mr Barr.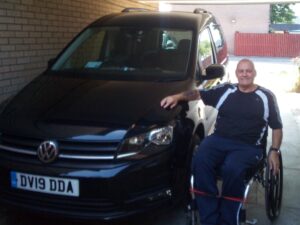 With a wide range of mobility cars for sale, there are many options available to you. Contact Sirus to talk through our mobility vehicles, and we can recommend which solution we think would be best for you. You can also book a free home demonstration and test drive.