Transporting your wheelchair or scooter – selecting the right option for you
If you use a wheelchair or scooter, there are various options available to ensure safe and worry-free travel. One of our most popular adaptations is a scooter/wheelchair hoist for cars.
Wheelchair Hoist for Cars
One of our most popular adaptations is a scooter/wheelchair hoist for cars. Whether you use a manual or a powered wheelchair, this mobility solution is suitable for a variety of weights, from 40kg to 200kg.  If you use a scooter and have a standard car, we can also fit a scooter hoist to safely load and unload without any lifting.
Boot Hoists by Autochair
Sirus work closely with Brig-Ayd Controls and Autochair, who manufacture scooter and wheelchair hoist for cars. We fit a range of Autochair boot hoists which are capable of lifting all types of scooters or powerchairs. The Smart Lifter LP range is perfect if you use a bigger or heavier wheelchair or scooter.  With a range of three lifting capacities, 125kgs, 150kgs and 200kgs this is the world's highest capacity car hoist. For when it is not in use, the hoist can be easily detached to save valuable space in the boot.
How Boot Hoists Work

This solution eliminates any manual lifting as it operates at the touch of a button. It will load your scooter or powerchair in 60 seconds, giving you a simple and easy way to get your wheelchair or scooter in and out of your car. You should then guide your wheelchair or scooter into the boot. This will eliminate the need for a family member/carer to lift the wheelchair/scooter into your car. 4-way hoists are ideal if you need to transport a scooter or a larger wheelchair. 2-way hoists are more suitable for lighter products.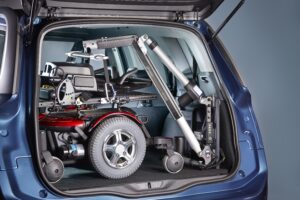 Suitable Cars for a Boot Hoist
If the scooter or wheelchair will fit in the boot space of your vehicle and the boot opens far enough, then a hoist will usually work for you. So there may be no need to change your current car. If you are looking to purchase a new car and are considering a boot hoist, it is advisable to talk to our experienced Adaptations Specialists first who can advise you on which boot hoists are suitable for which cars. Boot hoists from Sirus are available to purchase privately from £1200, or through the Motability Scheme.
Motability Scheme
If you choose to use to the Motability Scheme, you can use your higher rate Disability Living Allowance (or PIP) to lease a brand-new car. Your car can be fitted with adaptations to ensure accessing or driving a car, and transporting your wheelchair or scooter is as stress-free as possible.
Motability adaptations include boot hoists (as described above) as well as rooftop stowage units, which also work at the touch of a button.  When ordered at the beginning of your lease at the same time as placing the order for your car, prices for a boot hoist start from £150.
If you want to find out more about the Motability Scheme, visit their website here.  Alternatively, to speak to their Customer Services team, call 0300 456 4566.
 Internal Transfer Wheelchair Accessible Vehicles
If you have a standard car with a boot hoist and it isn't working for you, many of our customers consider an internal transfer wheelchair accessible vehicle. The advantage of an Internal Transfer WAV, as opposed to an adapted standard car, is that you will transfer inside the vehicle. So if it's raining you will stay dry and if you are parked on the road this is a very safe alternative. This can be a time and energy-saving solution, as you manoeuvre straight into the vehicle in your wheelchair.
Powered Six-Way Transfer Seat
Your transfer is assisted by a powered 6-way seat base which goes up and down, forwards and backwards and swivels up to 90 degrees, all at the touch of a button. This allows you to find the optimum transfer position across to the OEM driver seat. Your wheelchair will be safely secured using manual straps or an automated lock. Depending on your wheelchair, we will recommend the right solution for you during your free home demonstration.
We currently convert two different Internal Transfer solutions, including the Ford Internal Transfer and the VW Internal Transfer.
For more information call our Mobility Specialists on 0121 505 77777.