Your Guide to Car Hand Controls for Standard Cars and WAV's
With the addition of car hand controls and other bespoke adaptations you may require,  you can comfortably enjoy the freedom of driving. At Sirus, we provide a wide range of car adaptations and modifications for standard cars and wheelchair accessible vehicles.
One of our most popular adaptations, car hand controls (also known as push/pull hand controls) are the ideal driving adaptation if you find it difficult to use standard foot pedals to accelerate and brake.
Depending on your personal preference, car hand controls are fitted to either the right or left of the steering wheel. You pull the hand control towards you to accelerate and push away to brake.
Additional Options
Car hand controls can also feature indicators, dip and main beam functions and a horn. We would also recommend a steering aid when using car hand controls. These come in a wide variety to suit your individual requirements. Options include a peg, mushroom shape, T Bar shape, with either a fixed or quick-release attachment to the steering wheel. If you have limited strength, we can also offer an electric trigger throttle and brake system. Please ask our Adaptations Specialists for more information.
Suitability
Please note, hand controls are designed primarily for an automatic gearbox. Also, not all adaptations are suitable for every type of car, so if you are looking for a new car, it is important to talk to the experts first before you choose your car to ensure it is compatible with the adaptations you require.  Please do speak to one of our Adaptations Specialists at Sirus for all the information you need on car adaptations.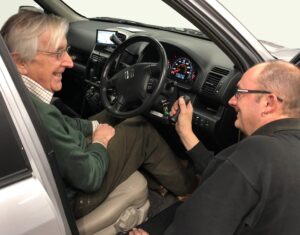 Using the Motability Scheme

Many of our customers use the Motability Scheme to lease a car through their popular Contract Hire Scheme. If you order your hand controls at the beginning of your lease and at the same time as placing the order for your car, prices start from £0. If you want to find out more about the Motability Scheme, visit their website here.  Alternatively, to speak to their Customer Services team on  0300 456 4566.
Hand Controls for Wheelchair Accessible Vehicles
Sirus are the UK's number one provider of Drive From Wheelchair and Internal Transfer vehicles. The majority of our disabled drivers will use push/pull hand controls. We can combine this with various other adaptations which are completely bespoke for each individual. Our experienced Mobility Specialists will work with you to find the right solution for you.
Bespoke Driving Adaptations for Wheelchair Accessible Vehicles
We can also fit more complex systems, such as this solution we fitted for our customer Gill Tyrer. This completely bespoke system includes pedal modifications, a raised floor, a small steering wheel and a bespoke box to house a lights switch, gear change, lockdown release switch, handbrake, tailgate open and close switch, brake override and a drop-in key. Gill also has a push-button gear selector, push-start ignition, ramp rails, parrot voice control, parking sensors, a Lodegsons 13-way control (for the indicators, lights, horn etc) a QLK 150 lock by Q'Straint which secures her wheelchair in position and lightened power steering. Read more from Gill here.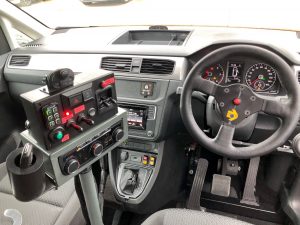 To find out more, call our team on 0121 505 7777.