Featured news
"With my Sirus WAV, I feel like i've got more mobility than ever!"
Sirus customer Doctor Cate Wight drives a wheelchair accessible vehicle (WAV) designed by Sirus Automotive. The vehicle is converted to enable Dr Wight to drive independently and transfer from her wheelchair to car seat. She has bespoke driving adaptations fitted to enable true independence. An amputee since she was 19, Dr Wight has been a Sirus customer since 2011. Dr Wight, a Consultant Breast and Gynaecological Pathologist at University Hospitals Coventry and Warwickshire tells us about her experience as a Sirus customer.
Transfer from wheelchair to car seat
"I drive a Sirus VW Internal Transfer conversion which works very well for me as I can transfer from my wheelchair to the car seat. I secure my electric wheelchair behind the passenger seat with an automatic lock. My transfer is aided by a powered six-way seat. I used to drive from my wheelchair, but around four years ago I changed my Sirus VW Drive From Wheelchair to a Sirus VW Internal Transfer vehicle. I felt like I wanted to have a rest from driving from my wheelchair and I welcomed the change in seating position. Also, we moved to a new house and didn't have a garage to be able to store the driver seat, which was really useful as on occasion my husband would drive and I travelled as a passenger. I used the Motability Scheme to purchase my current WAV which has been very good. All the insurance, servicing, warranty, tyres etc. is sorted out for you so you know exactly how much it will cost you each month.
Driving to and from work
Without my Sirus vehicle, I would not be able to go to work. I work 48-hours a week I use my vehicle to get to and from work which is around 10 miles from home. If I didn't have my Sirus vehicle I would have to catch two buses which would be very time-consuming! I need my Sirus vehicle to not only get to work, but to ensure I can transport my Invacare electric wheelchair. To get to the Cellular Pathology laboratory, where I work, there are many long corridors and if I were using a manual wheelchair, I would not be able to self-propel around the hospital.
VW Caddy Life
I love the VW Caddy Life as it's not too big and the fuel efficiency is good, I fill it up once a week at most. The great thing about the Sirus conversion is that I get in and out from the rear via the automated tailgate and ramp. This means even if all of the disabled parking bays are full, I can easily park in a standard parking space.
Life before my Sirus Wheelchair Accessible Vehicle
Before I had my Sirus vehicle, I had a standard car which was fitted with a boot hoist which lifted my manual wheelchair in and out of the boot. I had to move around the side of the car to get to the driver seat. It was so difficult to get in and out and it took up so much of my energy that I would only use the car once a day, which really limited my mobility.
Independence and Freedom
Now I have my Sirus vehicle I feel like I have independence and freedom. The conversion allows me to transfer from my wheelchair to car seat safely, so I can get to work, and after the pandemic, I can see my friends, go for a coffee, and go out as many times as I like in one day! With my Sirus vehicle and my Invacare electric wheelchair, I feel like I've got more mobility than ever. Buildings are still an issue, but generally, I can go anywhere! Before the pandemic, my husband and I would go shopping, to the cinema, for meals, we also went to Brittany on holiday on the Eurotunnel which was fabulous. I was able to transport my electric wheelchair and a manual chair as well as our luggage in the rear. There was loads of space, and it's great for our holidays.
Sirus Service during Covid-19
The service I have received from Sirus has been exceptionally good! They are such a responsive company. I don't usually have problems with the vehicle, but it is very heavily adapted so things can occasionally go wrong. If it does, their Service and Warranty Engineers come out to my home to fix it very quickly. I've been a Sirus customer for nine years now so I have seen how their vehicle conversions have really developed and they are continually innovating.
I've had a small issue during the pandemic so I called Sirus and asked if the Service and Warranty Engineer could come to my home at 8am, which would mean I could still get to work on time. He was there the very next day, right on time. He also designed a temporary solution to the problem so that he could fix it there and then on my drive rather than taking my vehicle back to the Sirus workshop. I really couldn't be without my vehicle for any period of time at the moment.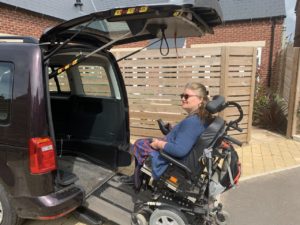 My role during Covid-19
I am also a Clinical Lead in Cellular Pathology, leading our department in partnership with our managers to provide diagnostic reports on circa 45,000 patient tissue samples per annum.  I'm the line manager for a team of 18 Consultants and 2 specialty doctors. We're heavily involved in diagnosing cancer and advising other clinicians regarding patient management.  During the pandemic, our NHS Trust has done an amazing job setting up my team to partly work from home. We use digital pathology and the Trust has supplied spare microscopes for home use and the ICT secure connections. We also have a weekly team meeting via Microsoft Teams which provides emotional support".