At this moment in time, one of the most popular in our range of WAV's is the Kia Soul WAV. Key features include a full length lowered floor, a central wheelchair passenger position and up-front wheelchair passenger conversions.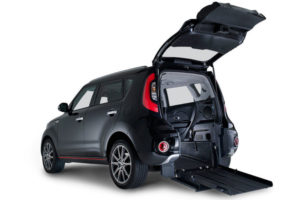 If you are a wheelchair user then you understand that public transport like buses and the train are a great annoyance and so are tedious travel arrangements. You can now travel in your own vehicle in a convenient manner in the KIA Soul WAV, the KIA Soul WAV is becoming one of the more popular choices of wheelchair users and it really is the smart choice!
Looking for a Kia WAV? The Kia Soul WAV is a reliable car and there are reasons surrounding its popularity. The Kia Soul WAV offers great performance at a very affordable price. The price is relatively low considering what you get and the advantages it holds.
The KIA Soul WAVs Specs
The Kia Soul WAV is a safe choice and comes in a smart design. This WAV is medium-sized and it's big enough for a large wheelchair to fit into it without any trouble as well as more space for additional passengers. The KIA Soul is not big enough for a lift, however, models can come with a secure fold-out ramp and is actually more efficient than some electronic lift systems. The Kia Soul also comes with low floors which give maximum headspace leading to a more comforting ride.
Here at Sirus, we have brand new and used Kia Soul's which are reliable and cater to the needs of people who are prone to wheelchair usage.